Welcome To Video Technology Enlightenment

The Video Guru™ is Michael Silbergleid, who has almost 40 years of expertise in television production and technology. He runs Silverknight Consulting, a strategic marketing communications company specializing in public relations and marketing serving hardware and software manufacturers in the broadcast, teleproduction, and professional audio industries.

Recognized as an expert in digital television, Silbergleid is the former editor of Television Broadcast, DigitalTV, and Sports TV Production magazines, as well as the former technical editor of Government Video magazine, the former technology editor for Film Festival Reporter, and the former US editor of TVBEurope magazine. He was also a expert guest on the subject of digital television for WGN radio in Chicago.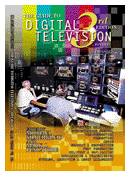 He is also editor of the first edition of The Guide To Digital Television published by Miller Freeman PSN (now Future US) in 1998, co-editor of the second edition published in 1999, and third edition published in 2000 (available in its entirety as originally published by clicking here — a great place to start for digital television information for those around the world still transitioning from analog to digital as well as standard definition to high definition).

Silbergleid's experience includes serving as Manager of Educational Television and Telecommunication Engineering for the Huntsville City School System in Alabama, as well as sitting on the Alabama Public Television Professional Advisory Board. He has been a producer, director, copywriter, video editor, chief engineer, and facilities designer. Silbergleid holds a Master of Arts degree in Telecommunication and Film Management from The University of Alabama and two Bachelor of Arts degrees, in Dramatic Arts & Dance and Speech Communications, both from the State University of New York at Geneseo.

His work is included in DigitalTelevision: DTV and the Consumer, the Encyclopedia of Communication and Information, Mass Media and Society, and the Journal of Broadcasting & Electronic Media. He has been a guest lecturer and presented to various industry groups around the world, and has been interviewed on the Into Tomorrow radio program, NPR's All Things Considered, and on the MSG cable network.

You can contact The Video Guru at webmaster at thevideoguru.com.

Below is the Introduction to the third edition of The Guide To Digital Television followed by the Table of Contents:
---
Introduction to the Third Edition
Broadcast stations have several digital television broadcast options, including multicasting several channels of programming at once, upconverting standard definition images, or providing high-speed data services. When many people think of digital television, though, they think high definition television, and some industry experts predict HDTV sports coverage will really help sell the idea of DTV to the public. For the 1999-2000 season, ABC broadcast its entire season of Monday Night Football and the Super Bowl in HDTV for the first time. Norm Samet served as director for the broadcasts and reflected on a successful season of HDTV...
IT'S BETTER THAN LIVING COLOR!
By Norm Samet
What looked great in NTSC before I began directing the ABC Monday Night Football HDTV feed in August 1999 pales in comparison to the pictures I get from HDTV cameras today. After 17 Monday Night games, one playoff game, and Super Bowl XXXIV, I still feel like a kid with a new toy--a very expensive new toy.
You almost get into a trance looking at HDTV pictures because you really see more. The wider 16:9 aspect ratio makes a big difference in covering football. With the old 4:3 aspect ratio screens it was often tricky to cover the defense. In HDTV they are already in your picture, so you can see more of the play develop.
The HDTV picture is so superior with brilliant colors and so sharp you can pick out numbers on players easily. I remember having a wide shot all the way down the field and there was a lady in a Jets t-shirt--and I could read the number on her shirt! I would have needed to walk all the way down to the other end of the field to see that detail in person.
And then there were the black spots all over the field in Dallas. "What's that!" I yelled, thinking something had gone wrong with a camera. A Dallas native calmly turned to me and said, "Those are crickets." My jaw dropped. The 525-line analog pictures have never picked out the kind of detail that the 720 progressive cameras capture. The point is, the amount of detail and clarity in HDTV pictures is unsurpassed by anything we have seen until now.
HDTV brings more than just better pictures. There are 5.1 channels of audio versus two in an analog feed. I now hear the referee's microphone on one channel, the announcer's on another, the crowd in another, and the sideline reporters have their own. As if I can't keep all of that straight, one channel plays music. With two channels of audio, the crowd, the referees and the announcers share the same channel and a lot of audio information is muffled. There are a few negatives in covering NFL football with HDTV cameras. The first thing our crew had to overcome was working with fewer cameras. The standard Monday Night Football production had 24 cameras, but the HDTV production only had seven. This meant our camera crews had to work harder and cover more of the field that they would with the old cameras. In some stadiums, the analog and HDTV cameras can't be placed side by side because there is no room. Our HDTV cameras had to go higher and at a steeper angle.
Since we didn't have our own announcers, we had to follow the plays Al Michaels and Boomer Esiason called, even though we didn't always know what to anticipate. We always had the option to go to the standard feed, but that was rarely necessary. It was the extraordinary situation that sent us to the standard feed.
People will be blown away when they see and hear HDTV. The game really comes alive. You gotta see it to believe it.
Norm Samet started in the mail room at ABC, then moved to ABC News as a copy boy. He moved up the ranks to associate director at ABC News, covering special events, elections, conventions, and NASA, among other assignments. Later, he became an associate director and a director for ABC Sports, covering almost every type of athletic event, including football, basketball, boxing, figure skating, auto racing, bowling, triathlons, the Tour de France, and the Olympics.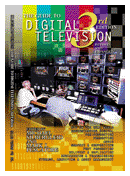 The Guide to Digital Television, Third Edition
Table of Contents

Publisher's Preface

Preface to the Third Edition

Introduction to the First Edition

Introduction to the Second Edition

Introduction to the Third Edition

DTV In The Real World: Chapter 1


From Yesterday To Today: A Perspective On The Digital Revolution


DTV: A Brief History


November 1999: Momentum Is Building


Television News In The Digital Era


The Future Of Newsgathering Is Now


LPTV Struggles To Survive


Watching TV On An HDTV: The Good, The Bad And The Ugly


The DTV Consumer

Understanding Digital: Chapter 2


Understanding Digital: The Basics


A Word About Ratios or Where Did All Those Numbers Come From?


Video Compression


Error Management


Understanding Digital: Advanced Theory

Pre-Production: Chapter 3


Digital Can Be Dangerous


Digital Pre-Production Tools Of The Trade

Production: Chapter 4


The Lens: Making The Best Of An Analog Situation


Framing The Two Worlds


Shooting HD: My First Time


Real World Digital And Production Problems

Audio: Chapter 5


Digital Audio Production


Digital Audio Post


To DAW Or Not To DAW


To Embed Or Not To Embed? The Pros And Cons Of Embedded Audio


Get A Feel For Surround


Setting Up Your Surround Sound Studio


Dolby Digital-The Missing Pieces


Dolby Digital (AC-3) and Dolby E

Graphics & Compositing: Chapter 6


The Art Of Digital

Post Production: Chapter 7


Nonlinear Editing: Moing Toward The Tapeless Environment


Digital Post: The Paradigm Wars

Delivery & Duplication: Chapter 8


Mass Duplication


Digital Be Damned: Consumers Still Love VHS


From Camera to Desktop: The Distribution and Handling Of Video As Files


Delivering Video Over The Internet


Internet Video:Bandwidth, Buzz And Interactivity Deliver A New Medium


The Realities of Digital Media

Engineering & Transmission: Chapter 9


DTV Test, Measurement And Monitoring


Transmission: Digital Within the Facility


Intra-Facility And Inter-Facility Transmission: Copper Versus Fiber


Better Cables, Better Distances For HDTV


Digital Television Broadcasting


DTV Interference: New Channels, New Problems


DTV Transmission Realities


What Exactly Is 8-VSB Anyway?


The How and Why of COFDM


QAM In Cable Transmission

Appendix A: Digital Television Production And Transmission


Production & Transmission Standards


Sweet 16 And Never Been Missed


MPEG-2 Art: Splicing, Editing and Keying

Appendix B: Storage And Archiving/Asset Management


Storage And Archiving In The Age Of Digital


Digital Asset Management


Maximizing Digital Assets: A Primer


Metadata And Content: A Guide For Video Pros

Glossary Of Digital Television Terms

About The Contributors

Copyright & Legal Information
---
Copyright © 2016-2017
The Video Guru™
(is a trademark of SilverKnight Consulting Inc.)